The Pass 2009






Code: 240JDPNT2
Price:

$20,000.00


Dimensions: 78" H x 118" W



These paintings are from 2009 and are a continued response to my local environment.The 3 paintings are all using an image of an assemblage of found plastic objects worked into the background with either portraiture, still-life or landscape elements incorporated. The images of the assemblages of the found plastics, I worked into the background of the canvas, before I developed the foreground, these found plastic object images have the effect of very much livening up the surface, as well as providing another personalised and conscious link between the found object works and my recent paintings. I remember saying in interviews with the media during the late 90's, that I hoped that one day I would see less and less litter washing up on our beaches, so that quite naturally my work would find a new direction. This has now happened on both levels, in that my work has found new directions and – there is less litter washing up on our beaches on a local level at least. The situation with ocean litter on a global level has worsened considerably. After more than 10 years of collecting beach found objects and subsequently making art out of them, including the kind of plastic assemblages seen in the background of the above paintings, I naturally come now to a new form of expression, which was brought on significantly as a result of the decrease in litter either washing up or being left behind on our beaches, as well as a result of my purge painting series and exploration and the sea and landscape series.Painting the Byron Bay local seascapes and landscapes,mostly images seen by me on my daily walk around the lighthouse and beaches, are painted somewhat with a sense of urgency, due to my ever growing concerns about global warming and its impact.

Additional Images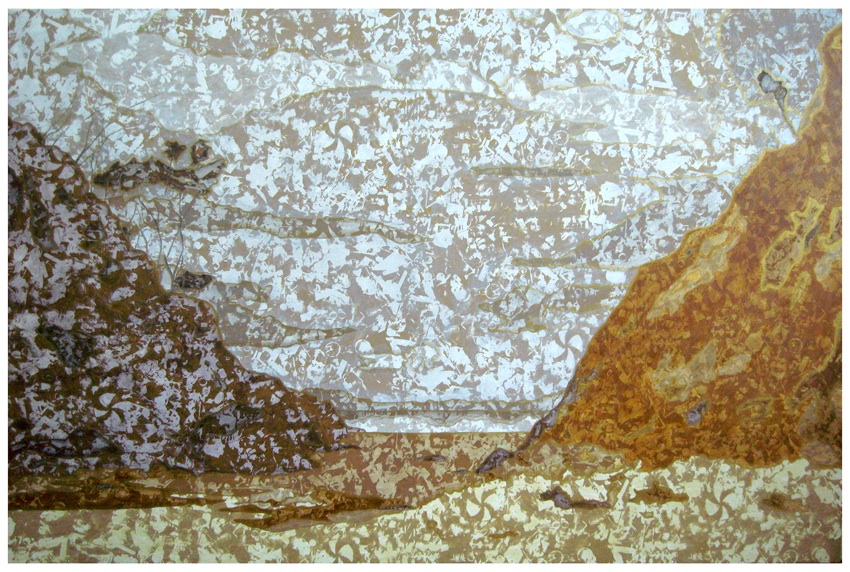 Additional Artist Creations:



















Artists Inspiration:
John Dahlsen studied art at the Victorian College of the Arts and at the Melbourne College of Advanced Education. Nationally regarded in Australia, as an award winning artist, he won the prestigious Wynne prize at the Art Gallery of NSW in 2000 and was selected as a finalist in 2003 and again in 2004. In 2006 he was a finalist in the Sulman Award at the Art Gallery of NSW. He has won several grants from various funding bodies, as well as winning other significant acquisitive and non acquisitive art prizes. He has lectured at many Australian universities, and has been an invited speaker at architectural and environmental symposiums both in Australia and Internationally. For 20 years he has been holding regular solo exhibitions of his work, both in capital cities, more recently in Melbourne at Australian Art Resources and in regional areas of Australia, including the Gold Coast City Art Gallery, the Coffs Harbour City Art Gallery, Grafton Regional Art Gallery and Tweed River Regional Art Gallery, as well as internationally, where he exhibited at the Australian Embassy in Washington D.C. In late 2003 he exhibited at the Florence Biennial of Contemporary art, and won a prestigious award for mixed media/new media. His more recent solo international exhibitions were in New York in Feb 2004 and in Milan in May. John is also involved in many group exhibitions from year to year both within Australia and internationally, with a current exhibition in which he is featured at the Powerhouse Museum in Sydney, planned to continue until the year 2006. He was also in the 2004 group show "Art From Detritus" held in New York and at Gensler in San Francisco in July. 2005 also saw his work in "Recent Acquisitions" at the Whipped Art Gallery in Minnesota USA. John was selected to be a cultural ambassador for Australia, by an international jury, to represent Australia at the Athens Olympics of Visual Arts 'Marinade' Exhibition 2004, held during August / September. In October 2004, as a part of Sculpture By The Sea in Sydney, John's most recent commission by Absolut of Sweden was unveiled. "Absolut Dahlsen" signals the first time an Australian artist has been commissioned by this company, he joins the ranks of such renowned artists as Andy Warhol, Keith Haring, Francesco Clemente and Damien Hirst, who have also been commissioned to make an artwork by Absolut. He curated as well as exhibited in the exhibition "Recycled Revisited", at the Samuel Dorsky Museum in New York State from the 1st July - 18th September 2005. In September 2005, he was the artist in residence, courtesy of Jefferson City in Missouri USA, where he made a public artwork for the city. In December 2006 John was 2nd prizewinner in Australia's richest Art prize, "The Signature Of Sydney Prize". December 2007 saw John feature in an exhibition titled "Ecological Integrity: On the Brink"