Signature Foyer Chair






Code: 262SRCHR2
Price:

$5,750.00


Dimensions: 52" H x 16" W x 20"D



This piece was originally designed and created in the Spring of 1987. Steve was featured on HGTV's "Modern Masters" series crafting one back in 1999. It is hand-crafted out of Eco-friendly Brazilian Ipe' wood, harvested from sustainably grown forests. Each piece is signed, dated, and numbered, underneath the seat area, insuring it's authenticity. It is a delicious conversation piece, great for the foyer, or used as a piece of sculpture in any room. It is meticulously crafted, utilizing interlocking notched ribs, 45 wooden pins, and 2 threaded rods. Definitely on his favorite list.

Additional Images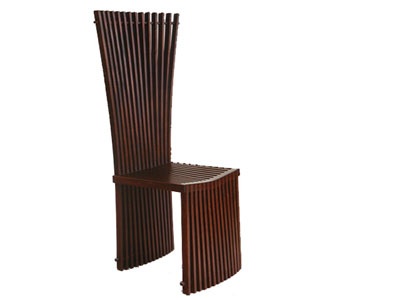 Additional Artist Creations:















Artists Inspiration:
Steve has been making unique and custom designed modern furniture since 1976. Essentially a self taught furniture designer and maker, he is the great grandson of Isaac Strinden, a Norwegian shipbuilder who moved to Minnesota shortly after the Civil War. His furniture is a beautiful mixture of pragmatic function and modern form. His unique designs reveal a keen eye for graceful flowing contours. His chairs, tables, and consoles take the simple shapes....a square, a circle....and turn them into elegant statements of art. Inspired by such artists and movements as Frank Lloyd Wright and Art Deco, his original works are never derivative. He allows a subtle bit of his own personality to come through in his works of art. Understated and elegant are his trademarks. When Steves work was featured on HGTV's "Modern Masters" program back in 1999, his commissions grew in demand and became steady. The exposure to a national TV audience has allowed him to build a clientele locally and to market his work internationally. His works are shown in galleries and Museums nationwide, as well as many residential homes, as many of his clients have been collecting his work for over thirty years.