Deer Head Light by Michael Sedlacek and Connie Lam
Deer Head Light



Qty in Basket: None
Code: 92MSLGT1
Price:

$1,500.00


Dimensions: 34" W x 21" L



Humane take on the traditional trophy head. Made of steel using showcase bulbs. The antlers are dimmable.

Additional Images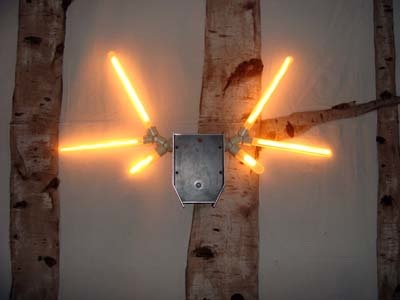 Additional Artist Creations:




Lounger
Code: 92MSCHR1
Price: $6,780.00
Quantity in Basket: none






Michael Blacksmith and Connie, a creative hobbyist met and married. Although their creative ideas were different, the combination of their two different worlds gave birth to a unique style of furniture, merging her designs with his technical expertise. Combining their ideas, they build and design all their furniture out of their Williamsburg metal studio. Their sole goal in mind when they create furniture is a category they like to call, "functional art". Using different materials from fabric to steel and glass, they aim to make furniture that can look beautiful and evoke an emotional response while still being functional. The details in the design makes you want to touch and feel and try out their furniture.