Rebecca Indigo by Lindee Daniel
Rebecca Indigo



Qty in Basket: None
Code: 62LDGWN1
Price:

$3,300.00


Dimensions: any size



Layered, wrapped gown with side cowls, in rare tussah silk, contrasted with a smooth peace silk, and lined in a soft organic cotton; naturally colored from the indigo plant supplied by a woman's co-op in El Salvador. The silk fabric is wild and peace, meaning the silk worm is not harmed. Materials and processes are free from synthetics or chemicals and construction is done locally with fair trade practices.

Additional Images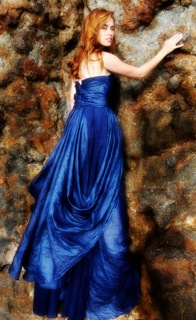 Additional Artist Creations:




Sarah Gown
Code: 62LDGWN2
Price: $2,200.00
Quantity in Basket: none






Rebecca Indigo by Lindee Daniel