Conscience Collection™ Flaming Diamond Ring by Gary Ptak
Spinning Flame Ring



Qty in Basket: None
Code: 275GPJWL2
Price:

$9,000.00


Dimensions: Sized to Request



Gorgeous 18 kt solid gold multi colored diamond ring, made of laboratory grown diamonds. The center diamond bezel spins to allow the wearer to change the look.

Additional Images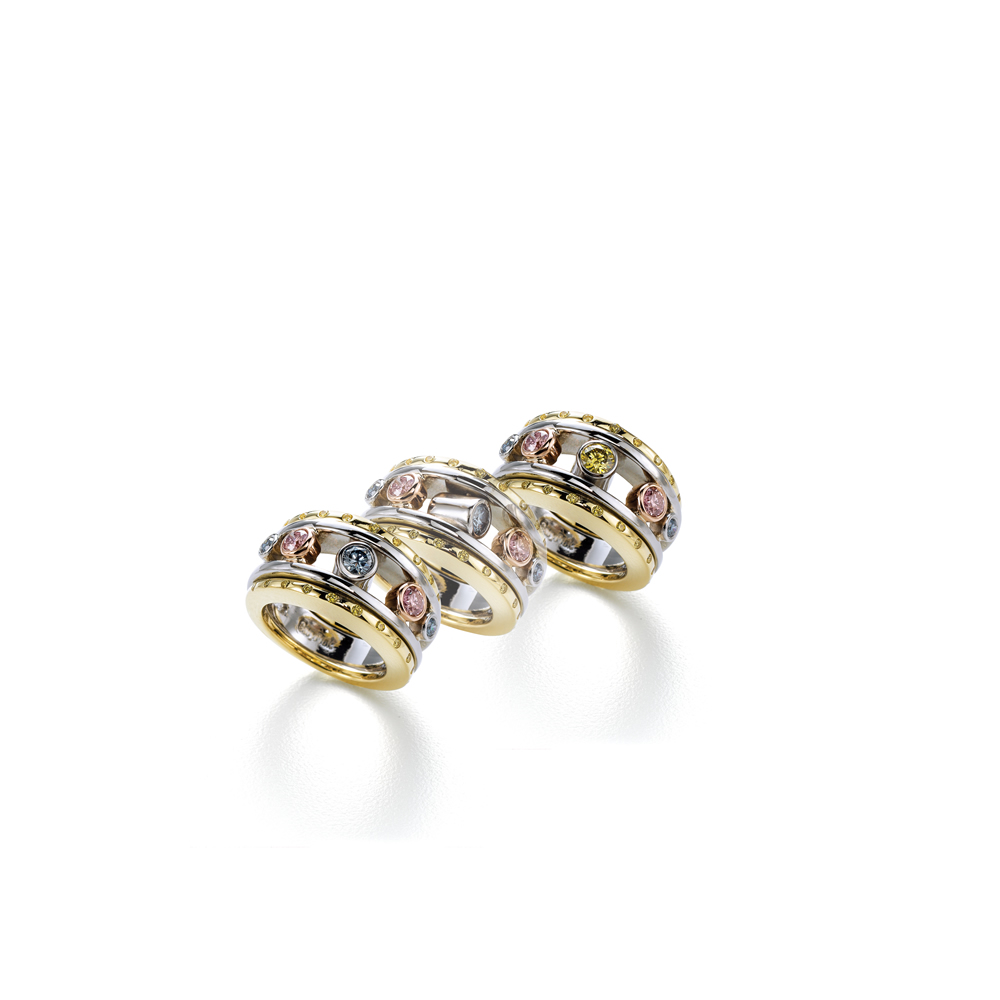 Additional Artist Creations:







Artist and an innovative fine jewelry designer and GIA certified gemologist committed to creating pieces that meet the highest standards of excellence. His company has the unique focus of specializing in fine custom, made to order pieces for the jewelry trade and elsewhere. The family business established upon the ideals of tradition and experience of generations within the jewelry industry. Along with the titles of jewelry designer, manufacturer, and Graduate Gemologist, Gary is a leader in the fine jewelry industry in the areas of social and environmental responsibility, and a 20 year veteran of the jewelry manufacturing business. At a time when American jobs are being outsourced overseas at a high rate, Gary maintains all production within the United States, employing talented professionals to produce exquisite pieces. He was a recipient of the prestigious: "Rising Stars-40 under 40" award in 2006. The honor was presented by the Business Council of Westchester (NY) and recognizes entrepreneurs in Westchester County, under the age of 40, that have made significant contributions to their industry and community. One of Gary's lifelong campaigns has been preventing cruelty to animals. While living in New Orleans, Gary began adopting dogs from the Louisiana Society for the Prevention of Cruelty to Animals. Following the devastation of Hurricane Katrina, Gary began working closely with the LASPCA and Humane Society of the United States to help save stranded animals and rebuild what was lost. His company has launched a special Fleur de Lis series, created with LASPCA and Louisiana culture in mind, in which fifty percent (50%) of all proceeds are donated to the LASPCA. Most recently, he introduced the world's first entirely environmentally and socially responsible brand of fine jewelry: The Conscience Collection™. The Conscience Collection consists of sleek jewelry designs made of recycled precious metals and stunning laboratory grown genuine diamonds and gems.