Copula Bracelet by Tiffany Kunz
Copula Bracelet



Qty in Basket: None
Code: 35TKBNG2
Price:

$600.00


Dimensions: 7 1/4" long



Hand hammered, reclaimed silver is hand fabricated into abstract shapes and linked together. Finished with a lobster claw clasp. The Copula bracelet is bold and finely crafted to fit comfortably around the wrist. Each abstract shape is hand hammered and fabricated out of reclaimed silver.

Additional Images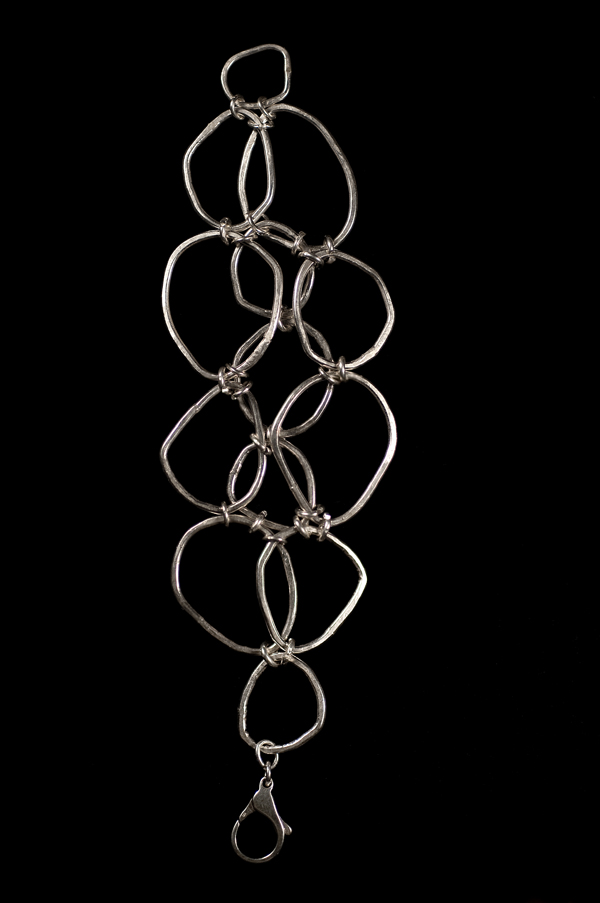 Additional Artist Creations:




Wind Bracelet
Code: 35TKBNG1
Price: $600.00
Quantity in Basket: none







Basal Ring
Code: 35TKRNG2
Price: $650.00
Quantity in Basket: none






Using rough stones and reclaimed metal, Tiffany Kunz handcrafts earthy yet modern hammered and hand forged jewelry. Tiffany is an inspired designer, as well as a certified gemologist, so her passion and expertise touch the jewelry from inception to purchase. Tiffany learned the craft of jewelry design at an early age, from her prolific paternal grandmother, who worked out of Seattle. Later, she studied at the Gemological Institute of America, where she became a certified gemologist. Having served as head designer for Sogoli Designs and assistant designer at Azaara, Tiffany launched her independent line in the summer of 2007. Since then, Tiffany has produced three collections, as well as creating custom designed pieces for her diverse and devoted clientele. In addition to her signature line, Tiffany also donates her time and talent to design for Raven + Lily, a non-profit studio dedicated to empowering impoverished women worldwide through design partnerships and micro-enterprise opportunities. Tiffany is committed to her 'green' studio approach, using mainly fair trade gems, recycled metals and eco friendly paper and packaging materials whenever possible