Sarah by Lindee Daniel
Sarah Gown



Qty in Basket: None
Code: 62LDGWN2
Price:

$2,200.00





Layered in panels of a sheer, light-weight silk, lined in a partial peace smooth silk similar to habotai. Materials and processes are free from synthetics or chemicals and construction is done locally with fair trade practices. 5% of your purchase is a gift to a non-profit for at-risk youth.

Additional Images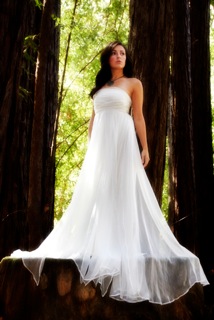 Additional Artist Creations:




Rebecca Indigo
Code: 62LDGWN1
Price: $3,300.00
Quantity in Basket: none






Lindee's work embodies art, sustainability and philanthropy. She has an unwavering commitment to all things natural, and for giving back. Her passion for fabric and design started as a child and led her to where she is today. She grew up in small towns, tended to her grandmotherís little farm and garden, and watched her father build and create things with his hands. These undoubtedly influenced her life. All grown up, she eats natural and organic; a vegetarian before her teens. She conserves, reuses, recycles and has a passion for youth and education. She holds a bachelorís degree in International Business, and studied Textiles and Apparel Technology in a masterís program.